Enclosed perimeter fence
A safe area with plenty of room for outdoor games for children's parties.
The sports pavilion is a Parish Council owned, maintained and run  by a small management committee.  This community asset is available for hire at very competitive rates . Residents of the parish get favourable rates and this venue is ideal for smaller functions (maximum of 50 people)    Other users have found it ideal for children's parties and committee meetings including the parish council itself.  From September  2021 the pavilion became home to a local personal trainer Donna O'Neill running one to one sessions several times each week.  There is an OUTREACH POST OFFICE on Thursday afternoons providing FULL Post Office facilities.
The sports field can also be booked in conjunction with the pavilion for 'themed' children's parties based on sporting activities.   This is done by the organisation that run our regular Saturday morning football sessions held by Five Star Sports for youngsters aged from 2 to 11.
2020 saw the return of junior football to the sports field and is hosted by Shadwell F.C. Juniors who play in the Garforth Under 14 and under 12's league.  Scholes and Barwick residents are encouraged to go along and become involved.
email : – scholessportspavilion@gmail.com with any enquiries.   Download & print  Hire Agreement 
Pavilion Hire Charges 2023-2024
Click  
HERE
to see if the Multi User Games Area or the Tennis Court is booked for exclusive use by anyone.
Whilst both are free to use most of the time we realise that sometimes residents may wish to be sure they can use the facilities when they arrive and so we are testing a booking system.   Costs are £4.00 per half hour for the tennis courts and £8.00 per half hour for the Muga.  ( Minimum booking is 1 hour)
Latest News.

   The Scholes Pavilion Management Committee are pleased to have been awarded a grant of £6,000 from The Emmerdale Grant Fund towards the 'Vision' project.   Grant funding has also been obtained from FCC Landfill Group of £43,000 and Veolia Waste Management for £38,000. 

So with a total of £87,000 +vat the new sports facilies is now ready.     

          
As part of the plans to address the lack of facilities for our young adults and to encourage outdoor sporting activities it has been proposed to develop the site of the former Scholes tennis courts.The plan will create a new tennis court alongside a Multi User Games Area.  An outdoor gym area will also be created with access from the sports field.
A consultation booklet was delivered to houses in the parish in August 2020 and following an open session later that month modified plans were drawn up and submitted to Leeds City Council for planning approval in May 2021.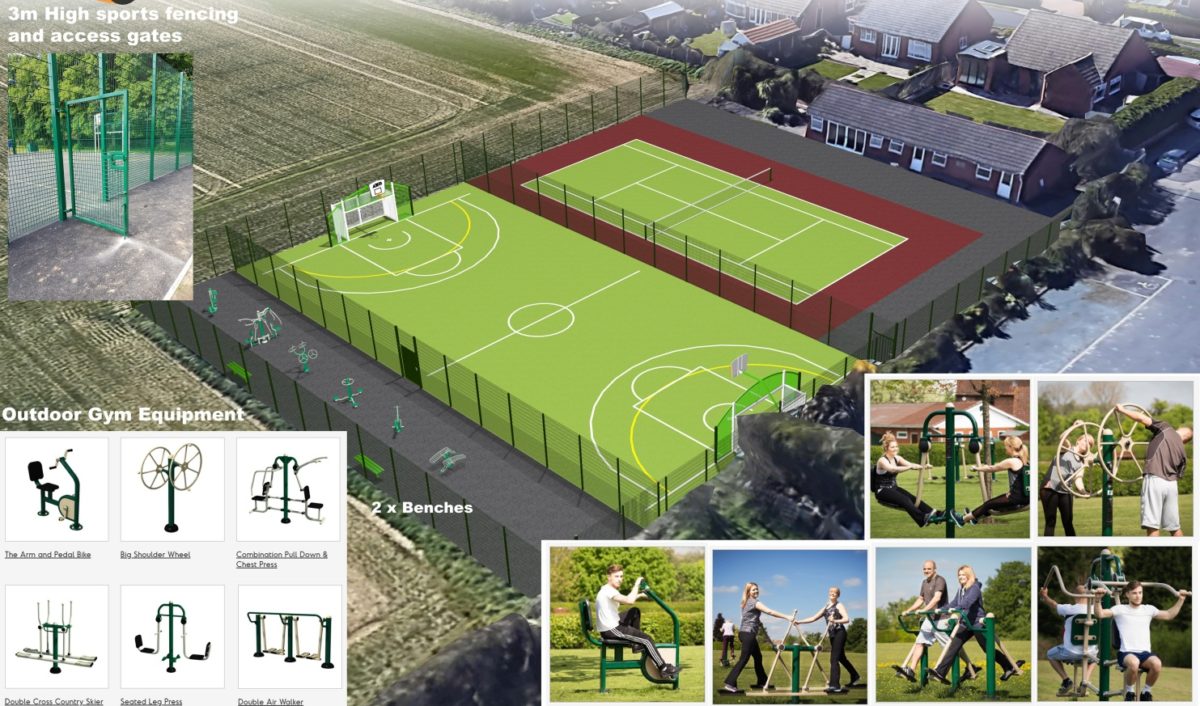 A modern clean facility provided by Barwick and Scholes Parish Council in 2022 using grant money from Veolia, FCCL and the Emmerdale fund to refurbish the tennis court and add a Multi Use Games Area plus an outdoor gym section.  All free to use by the residents of the parish and can be pre booked for exclusive use ( fee applies for this )